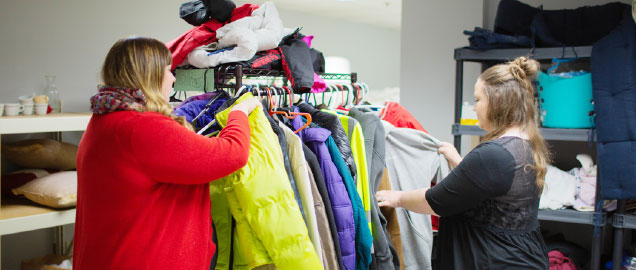 On any given night, approximately 1,500 individuals are without a home in the Omaha area. Annually, about 6,000 individuals and families experience homelessness.
While local shelters can provide for basic needs temporarily, Heartland Family Service has developed a program known as Navigating to Home to address homelessness in a more holistic way. The Mutual of Omaha Foundation is proud to invest in this program, which offers a new approach in connecting individuals to various housing options.
Navigating to Home was established in the summer of 2017 to help fill some of the gaps in the homeless service system. The goal of the program is to reduce the overall length of homelessness that an individual or family experiences, ultimately creating capacity in the existing system by moving households through more effectively.
"Shelters will always have a place in our community, but they should be used for emergencies," said Mindy Paces, Vice President, Housing & Financial Stability for Heartland Family Service. "Our hope is to divert people from homelessness from the get-go and help those who are stuck in a cycle of homelessness find a way out."
Navigation services are currently offered in three area emergency shelters: Siena Francis House, New Visions and Open Door Mission. Additionally, the program provides a navigator to work with residents of domestic violence shelters and those on the streets.
"The Navigation Program is laser-focused on housing," said Lauren Lightner, Program Director of Supportive Services for Heartland Family Service. "Our housing navigators work with the shelter staff to find housing options for long-term residents and then determine how to provide wrap-around services and support to keep them in their home."
Housing navigators get to know the individuals and help them identify what caused their housing crisis and what type of assistance they need to be successful going forward.
"We are trying to be very intentional about matching the services with the needs of the person," said Lightner. "While our first focus is housing, we also try to connect them with the resources they need, whether it's developing budgeting skills, searching for employment, applying for disability assistance, and so forth."
Heartland Family Service collaborates with many other organizations throughout the process of rapid rehousing, navigation, street outreach and diversion. So, in addition to moving the needle on ending homelessness, Navigating to Home has strengthened the bonds among local nonprofits.
"This program has truly enhanced our collaborative relationships with shelters and peer organizations," said Paces. "We've really been able to better learn about the homeless population and how we can best support them."